Movie sets. The West Village, Golden City
There was a time when cowboys and Indians filled the old western town of Golden City in Hoyo de Manzanares.
Among them, an almost unknown Clint Eastwood played the man with no name in the trilogy of the dollar against the backdrop of the Sierra de Hoyo («For a handful of dollars», «Death had a price» and «The good, the ugly and bad «). Thus was born a myth of the spaghetti western and a chapter in our history that I invite you to know.
After the abandonment of the old decorations in the 70s, the town of Golden City was lost.
The protection of the natural environment with the creation of the Regional Park of the Cuenca Alta del Manzanares led to the cleaning of the remains and only the two troughs remained there as a vestige of the time of the film shoots.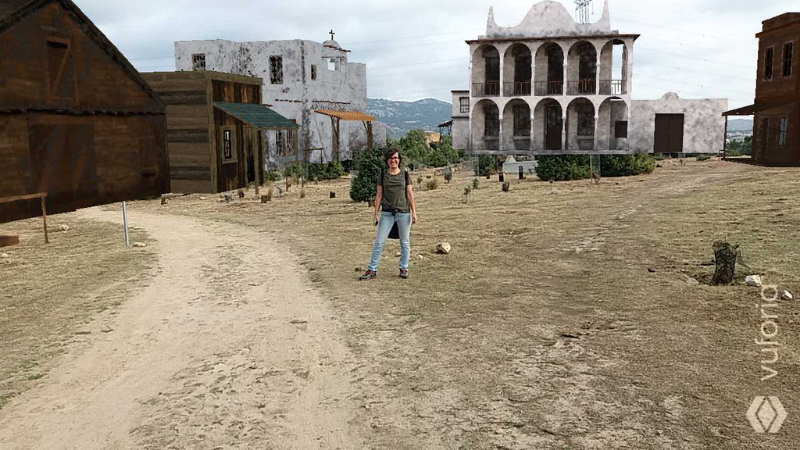 This environmental protection made the real reconstruction of this space completely impossible, but in 2019, the City Council carried out a project to value the world of cinema through the recovery of this space through Augmented Reality.
Nowadays, if you have a mobile phone and you download the free vivehoyo app, you will be able to access the Augmented Reality module and walk the street of the Golden City town, even if it is virtually. When you visit the place, you will have to open this module and focus on the images installed in small lecterns located along the "street". This will open the buildings, in life size, on the real landscape and you can take a photo with the Saloon in the background, like Clint Eastwood himself. You want to try?
How to get to Hoyo
To get closer to this place, we recommend you do it on foot, following the beacons of the Carboneros Route. It will take you 30 minutes from the Plaza Mayor de Hoyo de Manzanares or only 20 if you park next to the exit panel of the aforementioned route.
We do not recommend trying to arrive by car, since motor vehicle traffic is prohibited on the roads of Hoyo, except for the owners of the farms.